Events, Bulletins and News
---
2014-09-21 to 09-23 New innovations, such as the 4.5L stern drive engine and the 75-90-115 hp EFI FourStroke outboards were demonstrated at the Mercury 75th Anniversary World Event dealer meeting in Orlando, Florida. Watertown was there taking pictures to give you the inside scoop on the latest in boating propulsion.
---
2014-03-01 to 03-02 The Canadian Power Toboggan Championships, racing on Beausejour's half mile ice oval. CPTC
---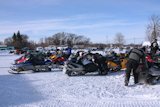 2014-01-25 Today there were lots of hardy sledders hitting the trails in support of the 2014 Teen Challenge ride. They went from Beausejour, to Watertown in Lac du Bonnet, to Pinewood Lodge in Dorothy Lake, to Pinawa Golf Club and then back to the Brokenhead River Community Hall in Beausejour.
---
2014-01-22 It's really cold outside, but NiCom™ plated cylinders now have a dedicated custom stock page, we'll call the Cylinder Exchange.
---

2013-11-25 Watertown offers genuine NiCom™ by US Chrome cylinder repair and exchange service. Customers can get repaired cylinders over the counter, in the shop or by shipping. Those who have repairable cylinder cores (required) can save substantial money compared to the cost of buying a new cylinder.
Watertown already has a selection of NiCom-plated Yamaha, Arctic Cat, Ski Doo and Polaris snowmobile cylinders available for quick exchange. To improve stock, Watertown is also buying repairable cylinder cores. Turn those scored aluminum cylinders into cash or a high-quality NiCom repair.
---
2013-11-00 A company trip to the World Championship Offshore Boat Races Key West Florida.
---