Marine Products
See Boats for Sale for our featured boat inventory.
See our Cylinder Exchange for NiCom™ replated cylinders by US Chrome.
Mercury Outboards

e are eastern Manitoba's Mercury Outboards dealer and offer Mercury certified technician service and warranty support. We have parts, props and oil for your Mercury or MerCruiser powered boat.
Link to Mercury Marine.
Avalon Pontoon Boats

Watertown keeps a considerable stock of pontoon boats to choose from. Come in to see the beautiful new Avalon pontoons--spring, summer and fall.
Link to Avalon Luxury Pontoon Boats.
Lund Boats

The classic choice for fishing walleye, goldeye and other Manitoba species. Lund offers refined designs in painted aluminum boats, utility boats and sport fish boats including some fibreglass models.
Link to Lund Boats.
Yacht Club Boat Trailers

Yacht Club pontoon, PWC and full hull boat trailers come standard with a polyester powder painted steel frame, contoured design and a two year limited warranty. They have heavy duty axles and sturdy winch stands, with steps on pontoon models. The Yacht Club PWC trailer line has composite fenders and compact designs to save room where parked, yet still able to accommodate the longest PWC's, and there are models for one or two personal watercraft.
Link to Yacht Club Trailers.
TurboSwing Ski Tow Bars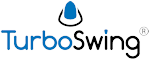 These robust stainless steel tow bars mount to the stern, sharing engine mounting bolts, and connect to the tow rope with a pulley, improving the rider's angle and reducing jerks on the rope. They can be used for tubing, water skiing, wakeboarding or kneeboarding.
Link to TurboSwing Ski Tow Bars.
and more at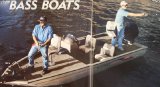 〉 Pre-owned Lund V170WD Bass Boat
• 17ft. Bass Boat
• windshield
• Mercury 75ELPTO
〉 New & Used Boat Sales Show & Tell.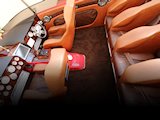 BOATS
---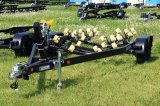 〉 New Yacht Club R2256T
• 2022 Roller Trailer • Black
• Yacht Club R2256T steel frame all roller trailer with disc surge brakes and aluminum wheels. 5600LB capacity and 6650LB GVWR.
〉 Trailer Sales Show & Tell.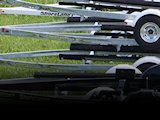 TRAILERS
---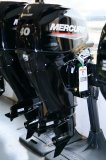 〉 New Mercury 40ELPT EFI
• 2022 FourStroke Outboard • Phantom Black • 40hp
• Mercury 40ELPT EFI FourStroke outboard with power trim and turnkey electric starting.
• inline 3 cylinder SOHC
• turnkey electric start
〉 Outboard Motor Sales Show & Tell.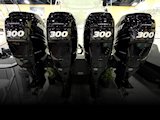 OUTBOARDS
---