Sledding Checklist
To get the most out of your snowmobiling holiday or weekend, we've prepared a list to help you prepare better ahead of time. Change it to fit your own preferences and personal needs. Use a checklist faithfully when sledding away from home to avoid scenarios like arriving at the staging area without a helmet or keys for the machines.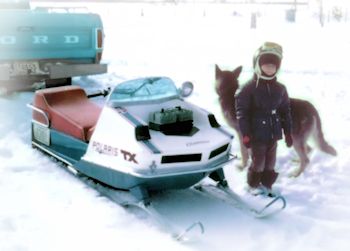 Survival Gear - depending on how remote your sledding will be. Always remember you could have a clutch fly to bits or an engine meltdown. Be sure to plan for it. Manitoba winter nights are survivable if you're properly equipped and know what to do.

Survival Booklet; heed its equipment suggestions for the type of trip you're planning. Such booklets have great tips for finding direction, catching animals, building shelters and staying dry. Each winter, build a snow shelter in the backyard, just for practice and learn to stay dry while doing it.
Waterproof matches; a good supply. Also, keep wooden matches in a 35mm film container (if you can find one).
Compass - learn how to use it.
Compact plastic shovel.
Snowmobile pants and outer shell large enough to house several layers.
Long underwear - upper and lower, layers of long sleeved upper body clothing that can be adjusted to prevent perspiring.
Carefully chosen and broken-in footwear.
Wool socks and spare wool boot liners.
Strong, sharp knife. A Gerber or Leatherman is also an excellent choice.
Signal Mirror - best with a hole in centre.
Packages of high energy food such as nuts or sunflower seeds.
Personal prescription medication.
First aid kit.
Flares.
Flashlight.

Snowmobile

Oil level.
Antifreeze level on liquid-cooled machines.
Track Alignment.

Snowmobiling Equipment - so much stuff, so easy to forget!

General Snowmobiling Items

Snowmobile keys and tether cord.
Fuel and oil - are you bringing along spare tanks of fuel?
Spare spark plugs and drive belt.
Tools.
Tow rope.
Trailer tie-downs - snowmobiles should be firmly secured to the trailer, front and back, for traveling.
Lock and chain.
Isoprophenol
Small camera - small enough to keep warm with body heat.
Electric visor cord.
Ear plugs.
Mitts and liners, suitable for sledding.
Snowmobile Boots and Suits.
Extra clothing - such as sweater, scarf and wool socks.
Balaclava (and take a spare).
Trail maps.
Kleenex and bathroom tissue.
Garbage bags.

Required by Law

Snow Pass.
Registration and licensing.
Helmet

Fun Stuff

Sleigh
Suntan lotion and sun block.

Fishing Gear

Fishing licenses.
Fishing rods and reels.
Fishing line.
Small Tackle box w/long-nose pliers, tackle, filleting knife and stringer.
Ice fishing flag rigs.
Bait.
Items for lunch.

- Par-boiled potatoes for frying.
- 2 pounds of shortening or lard.
- Onions
- Seasoning.
- Sandwiches (you might not catch any fish!).
- Coffee and cups.
- Cooking utensils/pots, pans, coffee pot and dishes suitable for campfire cooking.
- Cooking grill
- Fire starting aids such as paraffin soaked cotton cord & dry kindling (bring enough for lunch and emergency if the fishing spot is remote).
- Small chain saw; with winter chain oil and topped off with fuel mix.
- Hatchet and wood saw.

Measuring tape and spring scale
Ice Auger.
Dipper to scoop ice away from fishing holes without getting wet.
Going for a snowmobile trip in the mountains? There are special snowmobiling precautions for mountain conditions that Manitobans may be unaware of. Experienced mountain riders carry an avalanche transceiver, shovel and probe and are familiar with how each is used. They pay close attention to weather and avalanche forecasts. They are wary of steep slopes and know where to allow groups of riders or just one rider at a time. So before you start sledding in the mountains, do seek some expert help and consider taking an avalanche safety course. Have a great trip!