Trailers for Sale - Page 4
Watertown has an excellent selection of trailers!
Boat - Pontoon - Utility - Snowmobile (Sled) - Deck - Tilt - V-Front - Aluminum - Tandem

〉 2008 Shoreland'r SMB22CSW-03 Boat Trailer
Non-current • Black
• hull length 14' to 16'
• transom to bow eye 15'4"
• width between fenders 84"
Non-current heavy duty 2200 lb bunk style trailer. Priced to clear out!
〉 2005 Shoreland'r SMR31BLW-08 Boat Trailer
Demo • Pearl White
• hull length 18' to 20'
• transom to bow eye 15'4" to 18'4"
• GVWR 3740

〉 2017 Shoreland'r PWC12L-03 Personal Watercraft PWC Trailer
New • Metallic Black
• width between fenders 44"
• length bow stop to end of bunk 127"
A trailer that will look better, last longer and go farther. Get the most out of every weekend and every summer vacation. Go the extra mile!
〉 2004 Shoreland'r SLR30BL-01 Boat Trailer
Non-current • White
• hull length 18' to 20'
• transom to bow eye 15'4" to 18'4"
The Shoreland'r roller system provides maximum hull support for your boat and the easiest loading available.
〉 2006 Shoreland'r 1000 U Utility Trailer
Non-current • Black
The 1000 lb. carrying capacity and handy tilt-bed make it ideal for hauling wood, hunting gear, camping equipment- you name it! The compact size and low profile tires allow it to handle the tightest off-road maneuvers.
〉 2009 Shoreland'r 1400AU Utility Powersports Trailer
Non-current • Black
• back drop down loading ramp
The heavy duty ramp folds down to the perfect angle for optimal clearance. Once you own this trailer, you won't know how you did without it! It is endlessly useful!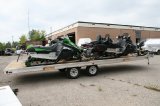 〉 2013 Bear Track 22ft V-Front Snowmobile Trailer
Non-current • Aluminum
Why aluminum? Better fuel economy,lightweight aluminum trailers pull easier. Lower maintenance,dirt & salt do not affect aluminum like steel. Durable,there's no paint to scratch,fade or peel. Better RESALE,aluminum simply will not rust,looks better longer.
For Sale at Watertown

(by Category)
Boats
Lund

Bass Boats
Fish & Ski Boats
Fishing Boats

Ultracraft
Avalon

Pontoon Boats
Tritoon Boats

Misty Harbor
Motors
PWC's
Trailers
Trailer Sales
Shoreland'r

Boat Trailers
Pontoon Trailers
Powersports Trailers
PWC Trailers
Utility Trailers

Bear Track
Shorland'r
Parts
Not all stock is listed online. We have more for sale on the lot at Watertown.
Call Watertown "Sales" at 204.345.6663 for inventory inquiries.


Trailer Sales
for
Manitoba
Lac du Bonnet
Winnipeg